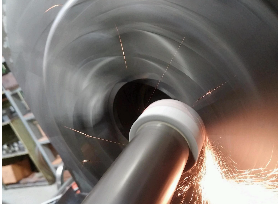 Blue Streak Grinding's Precision ID Grinding department consists of five (5) Cincinnati Milacron 273A Machines and four (4) 2EF73 Machines.
These highly precision rigid inside diameter grinding machines allow for fast removal of stock, while holding the closest tolerances in the industry with reliable consistency.
Two of the machines are raised 4" to accommodate a 20" faceplate, increasing the capacity to use larger holding fixtures and grind parts with up to a 24" swing.